Have you ever tried to purchase an item from an e-commerce store, only to leave the purchase incomplete for various reasons? Sounds familiar? This situation is quite common. Up to 70% of visitors who reach the checkout stage do not finalize their purchases. This phenomenon is caused by several factors including unexpected shipping costs, comped checkout process website or network glitches and distractions, among others. This is commonly referred to as cart abandonment
For most businesses, the primary goal of an e-commerce store is to attract more customers and diversify sales. However, what if up to 70% of projected sales are lost due to cart abandonment? That's alarming!
However, who says that this phenomenon has to affect your e-commerce store? What if we told you that there was a way to prevent cart abandonment? No one. So, in today's post, we'll explore how to reduce and prevent cart abandonment with the WooCommerce Cart Abandonment Recovery Plugin by Cart Flows
What is the WooCommerce Cart Abandonment Recovery Plugin?
The WooCommerce Cart Abandonment Recovery Plugin, created by CartFlows, is a completely free tool designed to track abandoned carts and recover potential lost revenue by closing those sales.
What does the Plugin Do?
It's quite simple. As soon as a customer enters the checkout section, WooCommerce Cart Abandonment Recovery captures their email address in case they don't complete the checkout process. It then sends automated but customizable emails to their inbox. These emails can be tailored to different prompts and scheduled to be sent at various intervals, starting as early as fifteen minutes.
Also, WooCommerce Cart Abandonment Recovery addresses various reasons for cart abandonment. For instance, if a user abandons their cart due to the complexity of the checkout process, the plugin generates a unique checkout link for each shopper. This link takes them directly to where they left off, streamlining the process. The plugin could also generate limited-time coupon offers to serve as an incentive for customers who abandoned their carts due to financial issues.
Furthermore, WooCommerce Cart Abandonment Recovery integrates with webhooks for marketing campaigns and provides standard reports on its effectiveness.
How do you set up the Plugin?  
Install and activate the plugin:
Navigate to your WordPress dashboard and head to Plugins >>> Add New. Search for the plugin "WooCommerce Cart Abandonment," which should be the first result. Install and activate the plugin.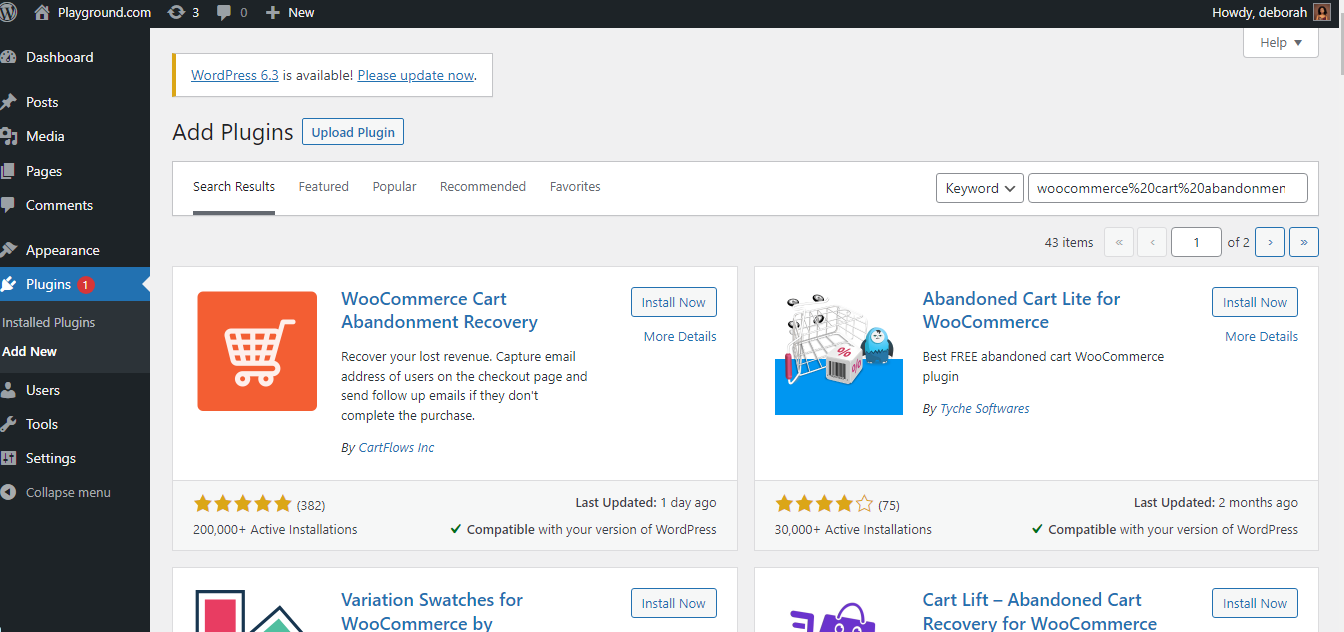 Once done, you'll find WooCommerce Cart Abandonment Recovery in the WooCommerce section of your dashboard, ready to use.
Understanding the Plugin: The Report Section
After clicking on WooCommerce Cart Abandonment Recovery, your dashboard will display recoverable orders and revenue (abandoned carts and potential purchases) as well as recovered orders (the carts successfully recovered). The other sections show lost orders due to various factors, along with recovery rates.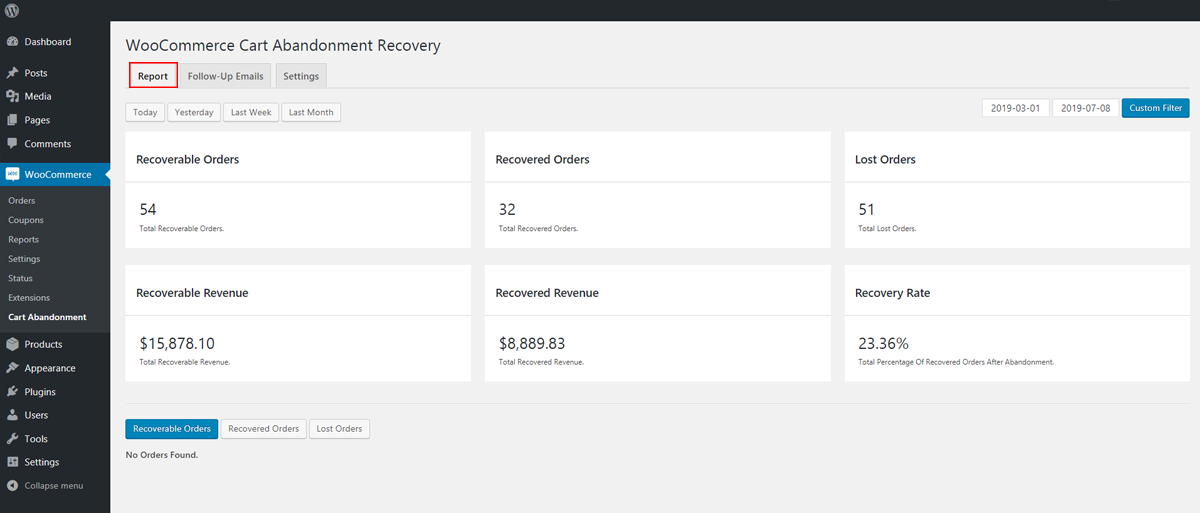 Understanding the Plugin: The Email Section
In the follow-up email section, you'll find three default emails with defined trigger times. These actions are customizable, and you can create new templates based on your preferences.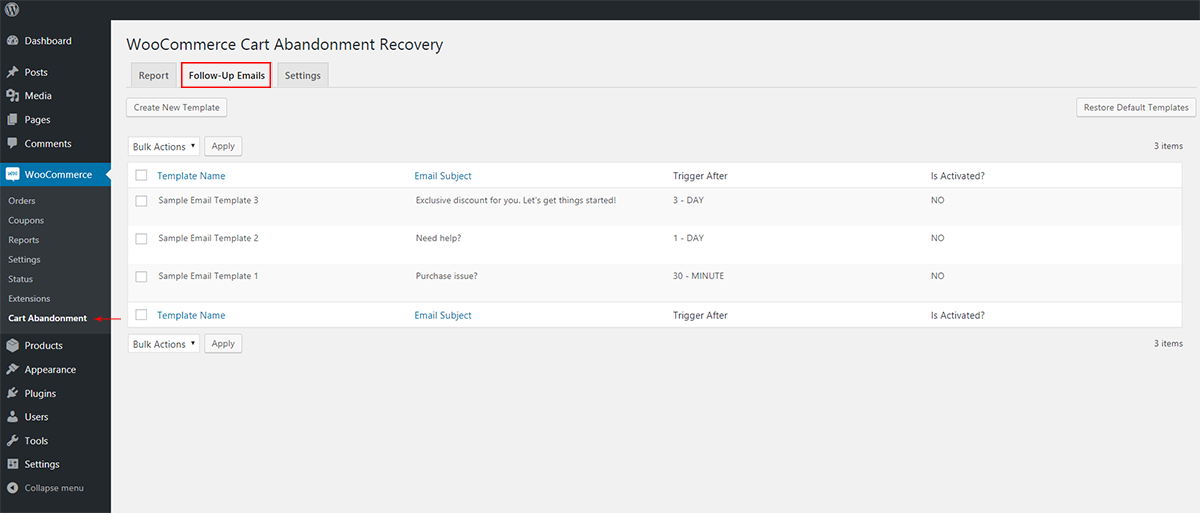 Understanding the Plugin: Email Drafting and Editing
Clicking on any of the follow-up emails reveals a draft ready for editing. You can adjust it to your liking, change the trigger time, and activate it. You can also decide whether to include a coupon in the template. These coupons are uniquely generated, customizable, and time-limited. Once edited, simply save your changes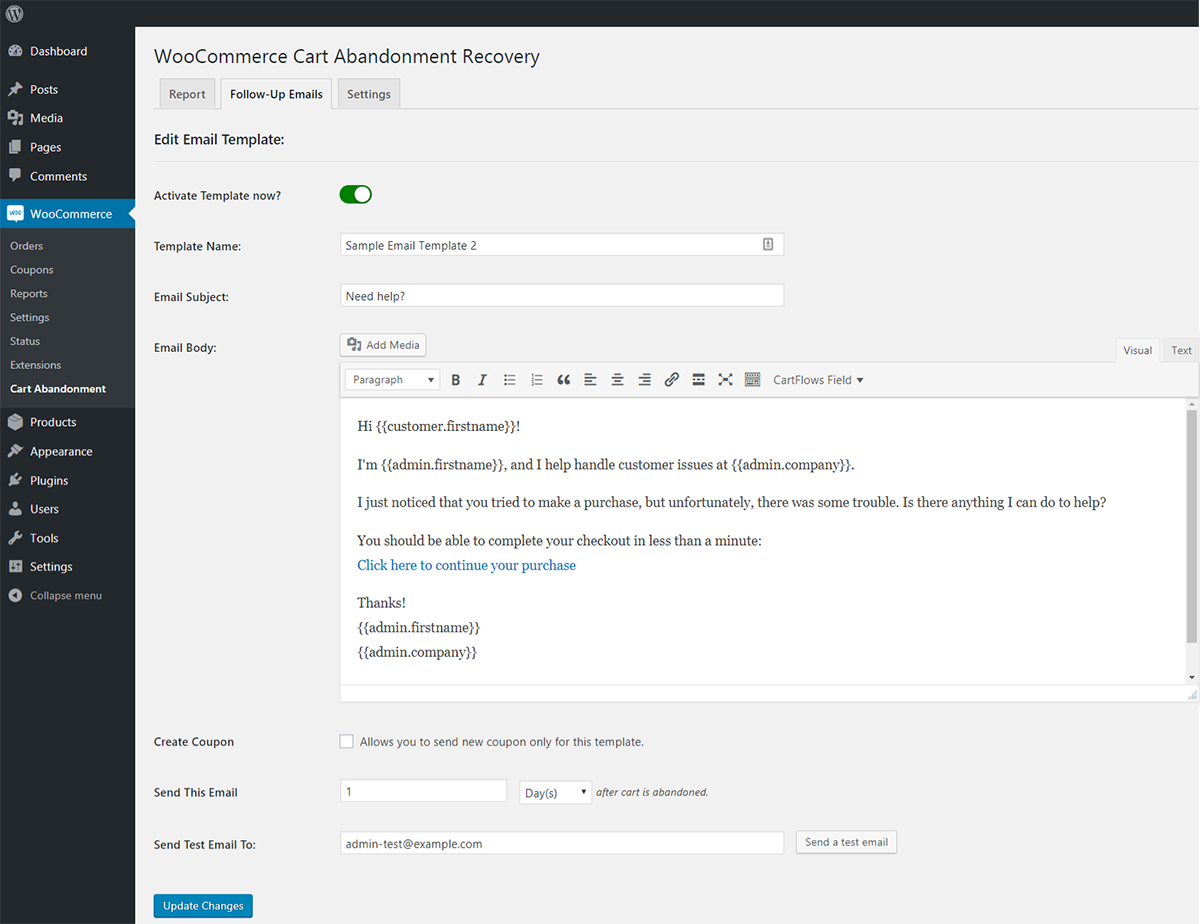 Understanding the Plugin: Settings
In the settings section, you can configure the sender's email details, whether it's the plain admin or a personalized name. You can choose the sender's email address and the reply-to email address. Additionally, you can enable or disable tracking, webhooks, and GDPR compliance.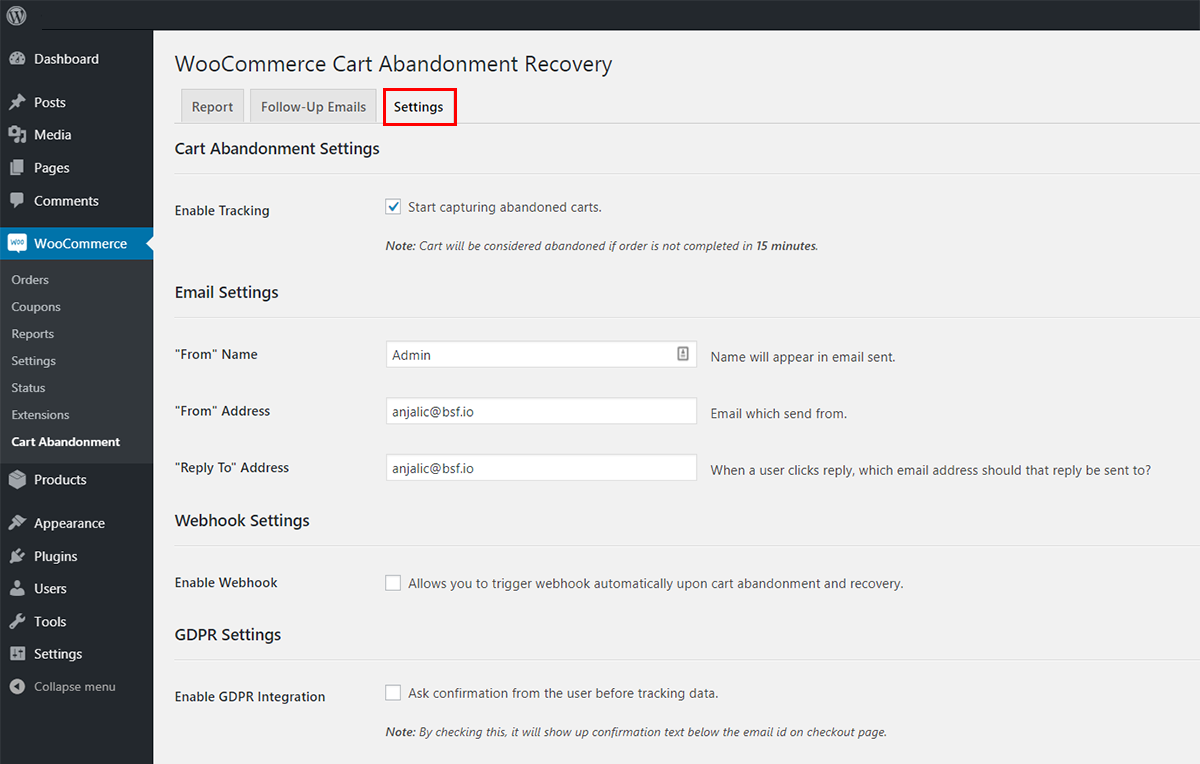 Once configured, your plugin is ready for use.
In Conclusion,
This might be a hot take, but with e-commerce websites taking up 22.3% of the projected $6.51 trillion online sales to make in 2023, this plugin could double those numbers. To back that up, this plugin contacts visitors solely by email, and research shows that 61% of consumers prefer to be contacted via email. Not just that, about 90% of businesses claim that personalization is key to success, with this plugin, you can send personalized coupons to your visitors for a personalized feel.
The best part of the WooCommerce Cart Abandonment Recovery Plugin is its cost-effectiveness – it's entirely free. It requires no payment to operate and offers straightforward installation, activation, and setup with impressive results. So, why wait? Take advantage of this tool and start recovering those abandoned carts today!