On March 28th 2023, WordPress launched a new update named WordPress 6.2 which came with many new features, improved security, and bug fixes, and a whole lot more to help revolutionize your business, improve your visitor's user experience et al. Which is why we think that you should update your WordPress site.
Updating your WordPress site to version 6.2 is a straightforward process, but it's essential to take certain precautions before updating to ensure a smooth transition. In this blog post, we'll take you through the steps to update your current WordPress version to WordPress 6.2.
First things first:
Backup Your Site
Before you update your WordPress site, it's crucial to create a backup of your website. This backup will serve as a safety net in case anything goes wrong during the update process. You can use a plugin like UpdraftPlus or BackupBuddy to backup your website quickly. Once you've created the backup, store it in a safe place, such as your computer or cloud storage.
Check Plugin and Theme Compatibility
Plugins and themes play a significant role in the functionality of your WordPress site. Before updating your WordPress site to version 6.2, you need to check if your current plugins and themes are compatible with the new version. Incompatible plugins and themes can cause errors and break your site, making it crucial to either update the plugins or themes or replace them with compatible ones.
Disable Caching Plugins
Caching plugins improve website performance by caching the website's data, making it load faster. However, these plugins can interfere with the update process by caching outdated data, leading to errors. Before updating your WordPress site, it's essential to disable caching plugins, clear your cache and browser cookies. This ensures that you're working with the latest data and reduces the likelihood of errors occurring during the update.
Updating Your Site:
Now that you've taken the necessary precautions, it's time to update your WordPress site to version 6.2. Here's how to do it: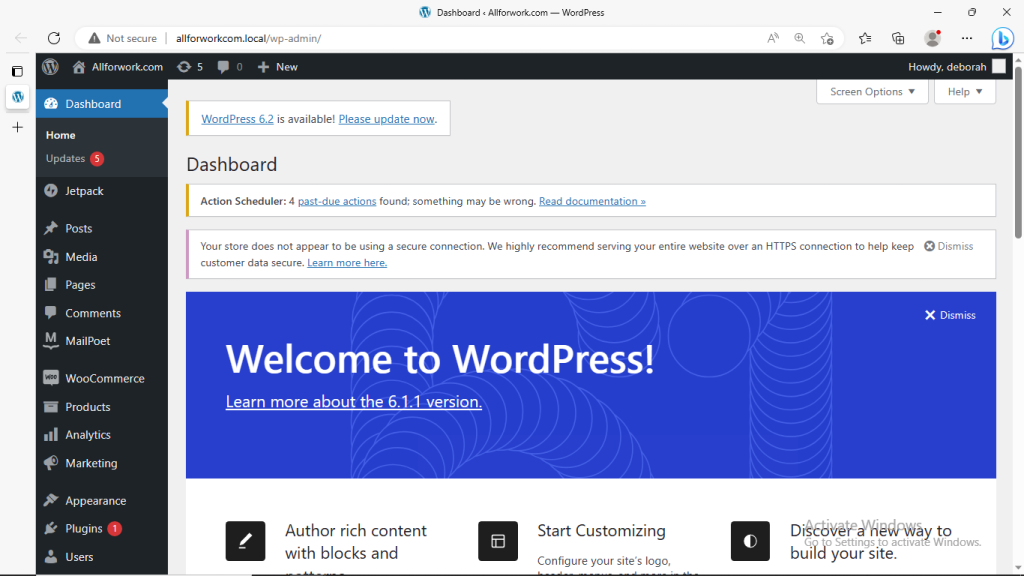 Log in to your WordPress dashboard and click on the update button on the top left corner of the dashboard. If you're using an older version of WordPress, you may not see the update button, so you'll need to navigate to the dashboard and click on the updates tab.WordPress will display a notification informing you that a new version is available. Click on the 'Update now' button to start the update process.
The update process will take a few minutes, and you'll see a progress bar indicating the status of the update. Do not close the browser window or navigate away from the page during the update process. Once the update is complete, WordPress will display a notification confirming that your site is now running on WordPress 6.2. Congratulations! You've successfully updated your WordPress site.
Test Your Site
After updating your WordPress site to version 6.2, it's crucial to test your site to ensure that everything is functioning correctly. Here are a few things to check:
Check that all your plugins and themes are working correctly. If you encounter any issues, deactivate the plugin or switch to a compatible theme.
Test your site's functionality, including forms, menus, and widgets.
Ensure that your site's performance hasn't been affected by the update. Check your site's loading speed and optimize your site's images, CSS, and JavaScript if necessary.
Conclusion
Updating your WordPress site to version 6.2 is a simple process that can significantly improve your site's functionality, security, and performance. However, it's essential to take certain precautions before updating to ensure a smooth transition. Always backup your site, check plugin and theme compatibility, and disable caching plugins. Once you've taken these precautions, updating your WordPress site is as simple as clicking a few buttons